Mt. Everest 8848m. South Col Expedition
Autumn
Fixed Departure: 07 September, 2018

Mt. Everest or "Sagarmatha" is the world's highest mountain in the earth at 8848m (29,029 ft.) above sea level.
Location: Asia, Nepal (Nepal - Tibet, China)
Himalayan Range: Mahalangur Himal
Height: 8848m. - (29,029 ft)
Latitude: 27º 59' 17" N
Longitude: 86º 55' 31" E
Trip Duration: 65, 70 Days
Normal Ascent Route: South East Ridge (South Col)
First Ascent: 29 May 1953 by Edmund Hillary and Tenzing Norgay Sherpa - First Winter Ascent 1980 Leszek Cichy and Krzysztof Wielicki
Easiest Route: Glacier/Snow/Ice climb (South Col Nepal side)
Grade: Strenuous High
Caravan Route: Kathmandu - Lukla - Namche Bazaar - Tengboche - Lobuche - Gorakshep - Everest Base Camp - Lukla - Kathmandu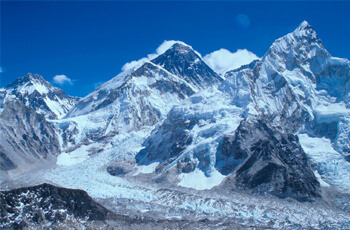 Mt. Everest expeditions, the greatest challenge, is more than the famous mountain on earth. It has unique beauty, mystery and mood. Successful historical Everest Expeditions leaves one with the sense of most proud and adventurous person on Earth. Mt. Everest's local names give you a sense of how the mountain commands respect from all who see her. Standing incredibly tall silhouetted against the shared sky of Nepal and Tibet, this mountain has many names: Chomolungma, Sagarmatha, Whichever name one chooses, its vagueness still lives on. Most of the mountaineers have their dream to reach the summit of Everest in their life time.

Cultural Treks have always been fascinated by what is also called "The Third Pole." late Sir Edmund Hillary and Tenzing Norgay Sherpa became the first persons to stand on top of the world on 29 May 1953. Since then there have been other many notable ascents to the summit. Possibly the most colorful story about the early attempts on Everest is the one involving Captain J. Noel and his native companions. He disguised himself as a Mohammaden and made a journey from Darjeeling through Northwest Sikkim and round the north of Kanchanjunga in an attempt to reach Everest. Unfortunately, not even the disguise could see him through. His mission was out short just sixty-five km from Everest when a posse of Tibetan soldiers forced them to turn back. Although there are a dozen or so routes on Mt. Everest we follow the classical route, traditionally the most reliable way to the summit. Climbing Everest expedition has been successfully organized and climbed many times since then, but this should not lull prospective Everest climbers into complacency. Everest is a deadly mountain. Nothing this, one cannot approach the mountain with anything but a serious determination and focused mountaineering attitude. Everest is still as inexplicable, beguiling and magnificent as ever.


Mt. Everest has two main climbing routes, the southeast ridge from Nepal and the northeast ridge from Tibet (China), as well as many others less frequently climbed routes. Of the two main routes, the southeast ridge is technically easier and is the more frequently-used route. It was the route used by Hillary and Tenzing in 1953 and the first recognized of fifteen routes to the top by 1996.

Camp 1: 6400m. – 20000ft.
Camp 1 is situated at the flat area of snow endless snow deep crevasses and mountain walls. Because of the Sun's reflection from this place we get warm and hitting ambience at this place. In the night we listen the deep murmuring cracking sounds of crevasses beneath our tent. These are the areas where we have to walk to reach camp 2.

Camp 2: 6750m. – 21000ft.
Camp 2 is situated at the height of 6750m. – 21000ft. It is located at the foot of the icy mount Lhotse wall though where we have to go ahead. Hear bad clouds roll-in from the low range of the Himalayan valleys to the bottom of our camp 2. Some time wind here seems very violent enough to destroy the tents. After climbing these palaces we reach camp 3.

Camp 3: 7100m. – 22300ft.
Camp 3 is located at the height of 7100m. – 22300ft, adjoining to mount Lhotse wall. After climbing 4000ft. Lhotse wall by using fixed rope and with prior acclimatization it leads us to camp IV. Also on the way we have to ascend the steep allow bands (lose, down -slopping and rotten limestone). From their crossing short snowfield the route moves ahead up the Geneva Spur to the east before finishing the flats of the south col. (Another wells name meaning Saddle of pass). Oxygen should probably be use above base camp III incase of needed.

Camp 4: 8400m. – 26000ft.
Camp 4 is located at height of 8400m. – 26000ft. It is the last camp of the Expedition. From here summit is only about 500 m distance far. This is the final and dangerous part of the climbing. This place is besieged by ferocious and violent winds. The normal best way to reach to summit is via the narrow South - East Ridge and it precedes the South Summits 28710ft.