Mt. Kanchenjunga 8586m. Expedition
Autumn
Fixed Departure: 05 September, 2018
Location: Asia, Nepal (Nepal-India Border)
Himalayan Range: Kanchenjunga Himal
Height: 8586m. - (28,169 ft)
Latitude: 27º 42' 09" N
Longitude: 88º 09' 48" E
Trip Duration: 50 Days
First Ascent: May 25, 1955 by Joe Brown and George Band - First winter ascent 11 January 1986 Jerzy Kukuczka and Krzysztof Wielicki
Normal Ascent Route: South West Face
Easiest Route: Glacier/Snow/Ice climb
Grade: Strenuous High
Caravan Route: Kathmandu - Taplejung - Mamanke - Yamphudin - Tseram - Kanchenjunga Base Camp - Taplejung - Kathmandu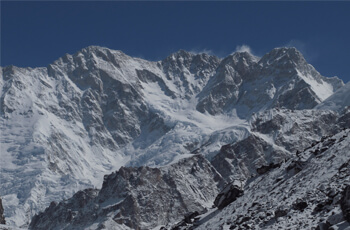 Mt. Kanchenjunga Main is the third highest mountain in the world which is from 1838 until 1849, it was believed to be the highest with an enormous mountain mass, and many satellite peaks rise from its narrow icy ridges. It rises with an elevation of 8,586 m (28,169 ft) in a section of the Himalayas called Kangchenjunga Himal that is limited in the west by the Tamur River and in the east by the Teesta River. The Kangchenjunga Himal is located in eastern Nepal and Sikkim, India boarder. The western limit runs from the Jongsang La down the Gingsang and Kangchenjunga glaciers and the rivers of Ghunsa and Tamur. Kanchenjunga rises about 20 km (12 mi) south of the general alignment of the Great Himalayan range about 125 km (78 mi) east-south-east of Mount Everest as the crow flies. South of the southern face of Kanchenjunga runs the 3,000–3,500m. (9,800–11,500 ft) high Singalila Ridge that separates Sikkim from Nepal and north Bengal. In keeping with its name "five treasure houses of the great snows" the Kanchenjunga Mountain is a grand collection of shapely spires. It is unique in as much as it is buttressed north and south as well as east and west by mountains of equal stature. This multi-topped massif comprises of four summits. Each one measuring over eight thousand meter called Kanchenjunga Main (Main 8,586m.), Kanchenjunga (South 8,476m.,) Kanchenjunga (8,476m.) West face Summit and Yalung-Kang 8,505m. Peak.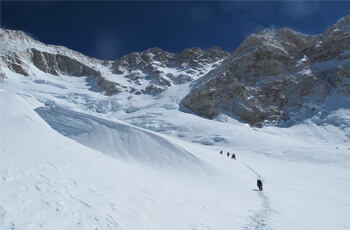 In May 1955, Joe Brown and George Band made the first ascent on May 25, followed by Norman Hardie and Tony Streather on May 26. The full team also included John Clegg (team doctor), Charles Evans (team leader), John Angelo Jackson, Neil Mather, and Tom Mackinnon. 1986. On January 11, Krzysztof Wielicki and Jerzy Kukuczka, Polish climbers make the first winter ascent on Kanchenjunga Main.

Kanchenjunga Main Climbing Route: There are 4 different routes to the mountain peak with both its south and east side providing opportunities for new routes. It is believed that the east flank of the South Summit is by far the most difficult face route. Our trip starts from Taplejung to Base Camp through Dandagaon and Mitlung. Our trek path back through another trekking route called Selele, Milgin-La 4,654m. pass, Tseram 3,770m. and end at Taplejung from where we will fly back to back to Kathmandu.