Mt. Kanchenjunga 8586m. Expedition
Spring
Fixed Departure: April 02, 2018
Location: Asia, Nepal (Nepal-India Border)
Himalayan Range: Kanchenjunga Himal
Height: 8586m. - (28,169 ft)
Latitude: 27º 42' 09" N
Longitude: 88º 09' 48" E
Trip Duration: 50 Days
First Ascent: May 25, 1955 by Joe Brown and George Band - First winter ascent 11 January 1986 Jerzy Kukuczka and Krzysztof Wielicki
Normal Ascent Route: South West Face
Easiest Route: Glacier/Snow/Ice climb
Grade: Strenuous High
Caravan Route: Kathmandu - Taplejung - Mamanke - Yamphudin - Tseram - Kanchenjunga Base Camp - Taplejung - Kathmandu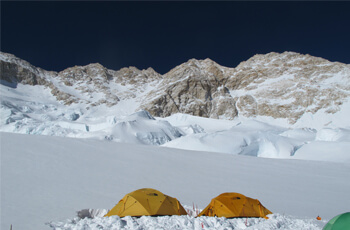 Kanchenjunga, at (8,586m.) is the third-highest peak in the world and the second-highest in Nepal, located between Nepal and India. The first successful ascent of Kanchenjunga was made on May 25, 1955 by Joe Brown and George Band, both members of a British Expedition, who stopped a few feet short of the actual summit in deference to the beliefs of the Sikkimese who hold the summit sacred – a tradition that most successful summit parties have since then followed. The full team also included John Clegg (team doctor), Charles Evans (team leader), John Angelo Jackson, Neil Mather, and Tom Mackinnon in 1986. The North Face route is regarded as the safest, though not the easiest, while the east flank of the South Summit is believed to be the most difficult route. Exploration continued, mostly from the Sikkim side, starting from Darjeeling in British India. One of the major contributors to Western knowledge about the region was Dr AM Kellas, who later died in Tibet during the approach of the 1921 Everest expedition. German expeditions attacked the peak in 1929, 1930 and again in 1931, but none was successful. After the Sikkim was closed but Nepal was open.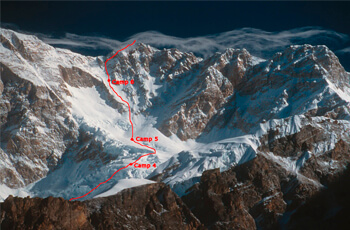 In 1955 a team led by Dr Charl as Evans approached the peak via the Yalung Glacier. The Japanese then took up the challenge and mounted expeditions in 1967, 1973 and n1974. When they climbed Yalung Kang. A German Expedition climbed Yalung Kang in 1975, and in Indian army team mounted the second successful expeditions to the main peak of Kanchenjunga.
Kanchenjunga Main Climbing Route: There are 4 different routes to the mountain peak with both its south and east side providing opportunities for new routes. It is believed that the east flank of the South Summit is by far the most difficult face route. Our trip starts from Taplejung to Base Camp through Dandagaon and Mitlung. Our trek path back through another trekking route called Selele, Milgin-La 4,654m. pass, Tseram 3,770m. and end at Taplejung from where we will fly back to back to Kathmandu.